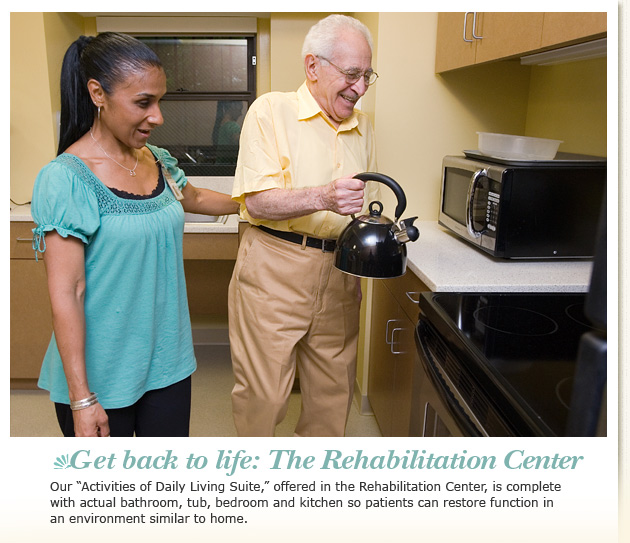 The Methodist Home difference:
Physical and occupational therapy offered seven-days-a-week
Speech/Language/Dysphagia therapy offered five-days-a-week
All private rooms and bathrooms
2,000 square foot Rehabilitation Center
Orthopedic nurse practitioner available on-site for joint injections (pain management) and related services
Bi-lingual rehabilitation specialists
Comprehensive individualized programs
Outpatient services are available upon physician referral
Patient care overseen by the Director of Rehabilitation Services and a physiatrist
Specialty rehabilitation for stroke, joint replacement and amputees
Rehabilitation Center-at-a-Glance:
Bladder re-training inclusive of Bladder Scanner for neurological, urological and stroke cases
Gait and balance training
Home management training
IV Therapy/IV Antibiotics
Occupational Therapy
Pain management
PICC line insertion and re-insertion on-site
Respiratory/tracheostomy care
Therapeutic recreation
Discharge process (Care coordination)
The Methodist Home's social workers expertly coordinate care of residents when they return home to prevent re-hospitalization. Services include:
Setting up home care services and/or outpatient therapy
Ordering necessary durable medical equipment
Providing a community resource directory
Scheduling follow-up appointments and ordering medications
Weekly follow-up calls for one month to ensure that all services, medication and equipment are in place
See Specialized Programs for more.
Respite Care
The Methodist Home offers a beautifully decorated private room and bath reserved for care of adults who need round-the-clock skilled nursing for a short period of time. Respite care provides high-quality, uninterrupted care for your loved one, while giving you the extra time you need.
A Respite Care guest must:
Be an adult
Be under a physician's care for chronic or acute medical illness
Be medically stable and free of infectious disease
Provide a current medical history and results of a recent medical exam.
Reservations are required for Respite Care stays. For more information contact our Admissions Department.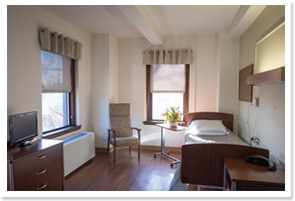 The Methodist Home's Rehabilitation Center is the cornerstone of our subacute/short-term rehabilitation program.
Are you looking for a conveniently located top-notch facility (and professional staff) to get back in shape after a knee, hip or shoulder fracture?
Do you need to find the best place for your elderly mother to recover after hospitalization due to a serious illness or accident?
Is additional therapy or recovery care needed before you can safely return home and manage the transition?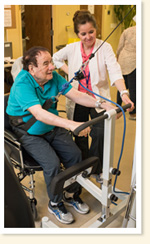 We help our guests get back to life with our state-of-the-art Rehabilitation Center, highly qualified therapists and knowledgeable, caring staff. We offer physical and occupational therapy seven-days-a-week and speech therapy services five-days-a-week.
Our interdisciplinary staff collaborates closely with attending physicians from New York Columbia Presbyterian and Montefiore Hospitals.
Guests may commute to our central location (free on-site parking) or stay in our secure short-term accommodations. We offer 40 private rooms with full bathrooms for our short-term guests.
What are your treatment goals?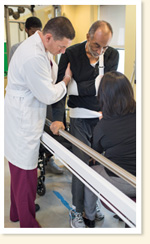 Treatment goals may include:
Walking and/or climbing stairs independently
Standing up (using the latest equipment for orthopedic and neurological conditions)
Preventing falls (with advance balanced training)
Managing daily routines such as bathing and dressing
Transfer techniques such as getting in and out of bed (or the car)
Regaining strength and endurance overall.